News Release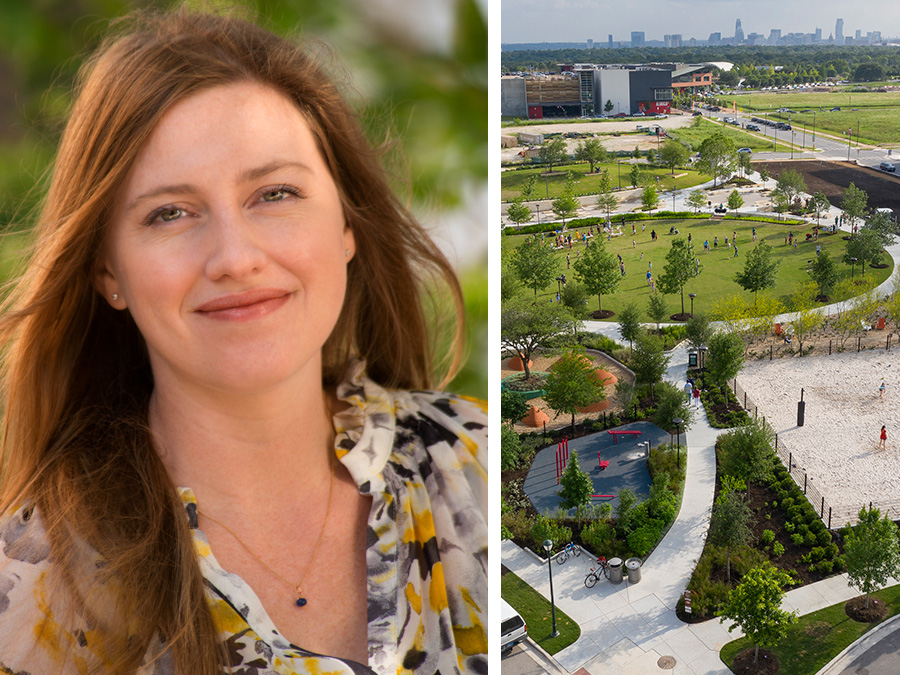 Q&A with Claire Hempel
For five decades Design Workshop has provided landscape architecture, planning, urban design and strategic services to clients in North America and throughout the world. We wouldn't be able to do this unique work without the incredibly talented people that work at Design Workshop. Over the next few months, we will be introducing you to some of the faces of our firm. Today, we introduce you to Claire Hempel, Principal in our Austin office.
How did you choose a career in landscape architecture?
Growing up in a community with beautiful greenbelts, creeks and east Texas wildlife, I always had a love for the outdoors and knew what it meant to get lost in the woods with friends from sunup to sundown. But going into college, I did not know Landscape Architecture was an option until I landed at Louisiana State University and started at the School of Design. With the help of amazing professors who believed in me, I found my niche in LSU's program and graduated with my BLA in 2002. I moved back to my hometown of Houston but have since worked in most of the big cities in Texas for firms of all different sizes and project types.
What has been one of your favorite projects at Design Workshop?
One of the projects, I'm most proud of is my work on the rehabilitation of the Rebekah Baines Johnson (RBJ) site redevelopment over the past four years. I've played an integral role in the master planning and landscape architecture of the redevelopment. Once the site is fully built out, there will be nearly 500 senior apartments along with a market-rate residential units, offices, retail space, and several parks, plazas and gathering spaces. This project is a critical step in providing housing to serve the needs of Austin's diverse population in the future.
Tell us about your appointment to the Austin Planning Commission.
Nominated by Austin City Council member Paige Ellis, I began my term on the Austin Planning Commission on July 1. I'm working with fellow commission members to guide decision making on land use and development in the city of Austin. One of my top priorities is addressing Austin's rapid growth by ensuring that growth is intentional and balances with the quality of life citizens want.
What is the most important lesson you have learned in your career?
Only 1 in 3 landscape architects are women and even fewer of those female landscape architects are in leadership positions at nationally respect firms. Being both a woman in landscape architecture and in a leadership role, I'm trying to set an example for other women at Design Workshop and in the industry. Part of being an example to others is showing them that you can grow from lessons learned throughout your career. Many people may think they know what you are capable of but only you truly know what you can do. I've learned to not let these other people dictate your future. I continue to chase my dreams and want other women to know that leadership comes in a lot of different packages and what makes you successful is understanding your value and what you bring to the table.
Why Design Workshop?
Since our CEO went to LSU, there has always been a strong tie between that Landscape Architecture program and Design Workshop. Six years into my career, I was excited to find out that Design Workshop had opened an Austin office. Fate took me to Austin and I had the once in a lifetime opportunity work for this incredible firm. DW has been not only making beautiful places but creating a better world for the past 50 years. I am lucky to be a part of that and have had countless opportunities that no other firm would have provided.