News Release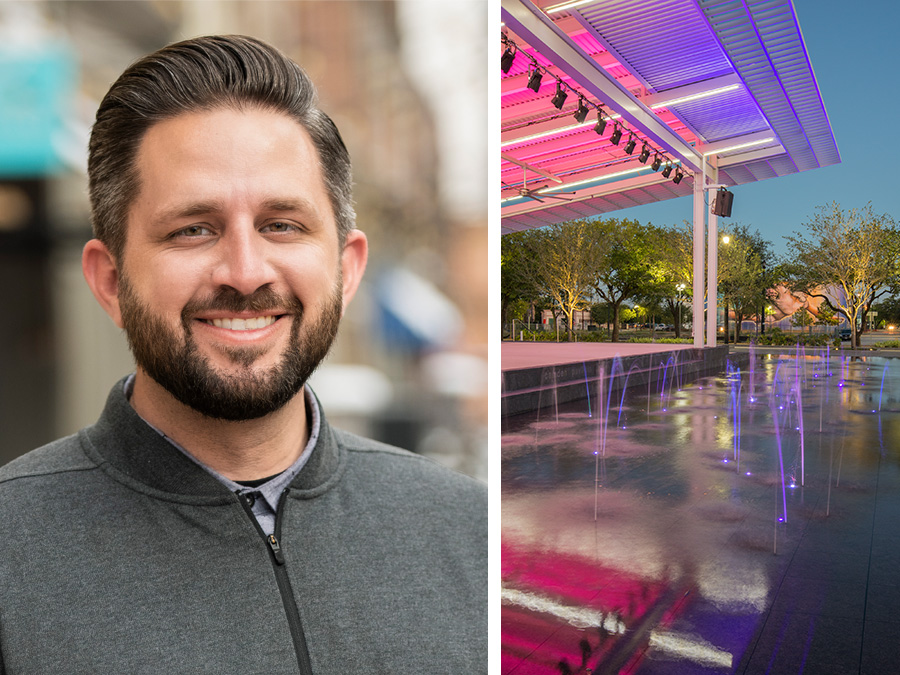 Q&A with Alex Ramirez
August 26, 2019 - Design Workshop, an international landscape architecture, planning and urban design firm, is pleased to announce that
For five decades Design Workshop has provided landscape architecture, planning, urban design and strategic services to clients in North America and throughout the world. We wouldn't be able to do this unique work without the incredibly talented people that work at Design Workshop. Over the next few months, we will be introducing you to some of the faces of our firm. Today, we introduce you to Alex Ramirez, Associate in our Houston office.
How did you choose a career in landscape architecture?
For as long as I can remember, I've loved being outdoors playing baseball or helping my parents in the garden. After my desire of playing professional baseball changed due to a career-ending injury in college, I transferred to Louisiana State University. I planned to study horticulture until a friend told me about the landscape architecture program. When I saw his design studio for the first time, I knew landscape architecture is where I needed to be. It was the perfect marriage of two of my interests – plants and design. I switched my major to landscape architecture and the rest is history.
Tell us about one of your most memorable projects at Design Workshop.
One of my first projects was the Bagby Street reconstruction project in Midtown. This project changed the way people think about the public realm because it gave the right-of-way back to the pedestrian. We reduced the street from four lanes to two lanes allowing the leftover space gained in this transition to be given back to the public. With more space dedicated to the pedestrian, wider sidewalks, more trees, seating, lighting and sustainable stormwater systems known as rain gardens could be implemented to improve the performance of the corridor. Now, local residents can sit and enjoy the ambiance of the street adjacent to rain gardens while traffic flows more efficiently, even with the reduced lanes. The project received the highest scoring certification by Greenroads™, a rating system similar to LEED that measures sustainability on transportation projects.
What are you working on now?
I'm working on finishing up the Midtown Park development, a six-acre piece of land that houses a park and a multi-family development. Midtown Park will be one of the first projects in Houston to be SITES-certified which means it has gone above and beyond typical design standards to deliver a park project that helps reduce water demand, reduce stormwater runoff, reduce energy consumption, improve air quality, provide wildlife habitat and improve human health. I've also been assisting on the Houston Arboretum project which is also looking to become SITES-certified upon completion of construction. The Arboretum has undergone significant changes over the past few years, and it has been an exciting process to be a part of and experience as a patron.
Why Design Workshop?
In my mind, Design Workshop was one of those special places only a few people got opportunities to work. To exacerbate this perception, I graduated as the country was coming off the bottom of the most recent recession, and only a few folks were getting jobs. I was fortunate enough to find an opportunity upon graduating with the newly established (at the time) Austin office. When I contacted about setting up an interview, I was ecstatic and immediately anxious. This was my first big interview for a firm that I highly respected and was inspired by. The work that Design Workshop does speaks for itself, but the process Design Workshop instills in every project is something I was looking for upon graduation. I wanted to be in a collaborative environment that did impactful work no matter the project. The length Design Workshop goes to ensure designs have the most responsible and creative use of space is impressive and I wanted to be a part of that.
This collaborative approach was most apparent during my interview process when I presented myself and my portfolio in front of the whole office. After answering some questions about myself and my work, the Design Workshop office opened their "playbook" and presented a project of their own where they were soliciting feedback from a community in which they were working. As I sat there observing how these people interacted with one another, I felt like I was somewhere I shouldn't have been. I had a moment of clarity where I knew I had to figure out how I was going to make this work, so I gave them my life for the remaining time I was in Austin and got to visit a construction site, attend an office happy hour, and have dinner with some folks from the office.
What do you like to do in your free time?
My time away from the office is generally consumed by spending time with my family. I have 3 children under 6 years old with my wife of almost 9 years. They keep us busy, but we wouldn't want it any other way! We stay active by swimming, biking, visiting parks of all shapes and sizes, and working around the house. I like to work with my hands and stay busy, so I can often be found fixing something, building something, doing home improvements, or working in our yard. Outside of those things, I enjoy golfing, fishing, and traveling, but it has been a while since any of those were "regulars" in my life.