News Release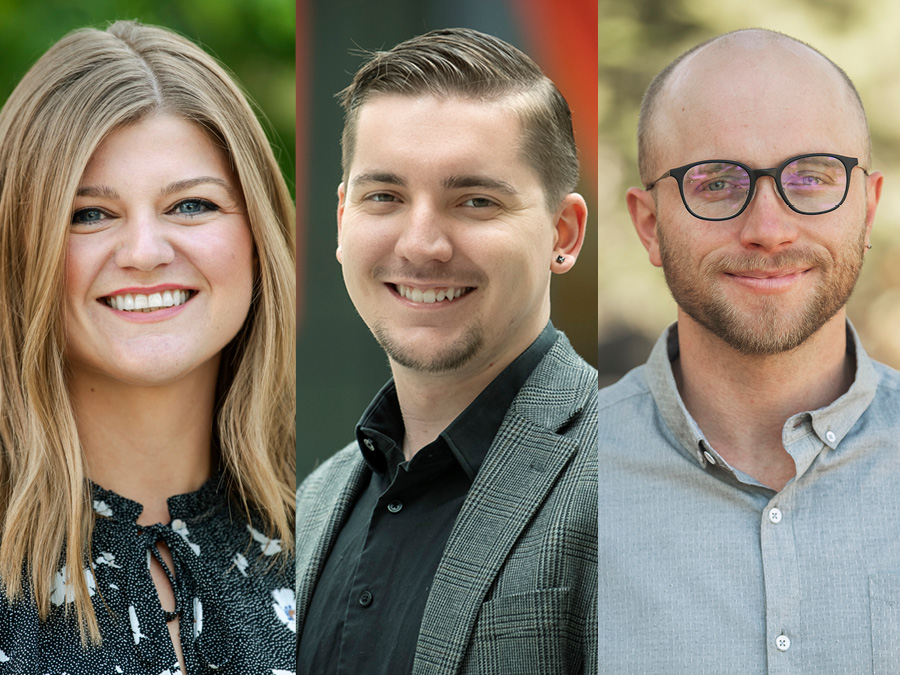 Interview with Kim Case, Brian Corrie, and Tyson Murray
We recently caught up with three of our newly promoted Associates – Kim Case, Brian Corrie and Tyson Murray to reflect on their most memorable projects at Design Workshop. We dived into what DEI means to them and they shared the most exciting part of their job. Read on to learn more from these talented team members.
Kim Case –Landscape Architect, Denver
Brian Corrie – Landscape Architect & Planner, Chicago
Tyson Murray – Landscape Architect and Operations Manager, Lake Tahoe
Tell us about the most memorable project you have worked on at Design Workshop. Why does it stand out?
KC: My first day at Design Workshop was two years ago and I was introduced to the Centennial Center Park expansion. Since then, we have developed the conceptual design, design development, construction documentation and are now in the midst of leading construction observation. This project has afforded me many learning opportunities and was a huge motivator in my decision to become a licensed landscape architect. Looking back at the beginning stages of the project amplifies just how much Design Workshop has guided my growth as a professional.
BC: I worked with a small team to develop a rehabilitation feasibility plan for the U.S. Embassy in San Salvador. From a design standpoint, it was a challenge to work within the constraints of security and growing operational needs while maintaining the quality of place the staff had come to love. The most exciting part for me was meeting with local material suppliers and visiting stunning botanical gardens to understand what was readily available for implementation.
TM: It is a series of projects working with my alma mater – Utah State University. The ability to work with the school that provided me my intro to planning and landscape architecture and created such formidable memories during my college years has been very special. I have helped the university re-imagine the promenade streetscape that runs through the heart of campus, complete construction on phase one of that project, and helped to revise the historic quad that I hold so fondly in my memory.
What does DEI mean to you?
KC: I am inspired by Design Workshop's DEI initiative. It is the critical conversations that hold ourselves, our projects, and our mission accountable. It is an initiative that is translated into our office culture, the future of landscape architecture, design, and planning; and certainly, in the way we approach our projects, designs, and engagement.
BC: To me, DEI is the opportunity to learn from the wide-range of experiences of the people and communities where I work. It's about not only hearing the the voices that for so long went unheard but taking innovative action in response to them. I am proud to work in an environment that supports diverse heritage, tradition, gender and perspectives to create real, impactful change around the world.
TM: DEI means taking a holistic approach to the design and planning process to ensure that voices that have been historically silenced are given a voice.
What's the most exciting part of your job?
KC: What excites me the most about my job are the endless opportunities to learn and improve. We wear many hats, and the extent of our day-to-day tasks stretch far and wide. I am fortunate to work with incredibly talented and knowledgeable people to learn from and to work on a diversity of project types that allow for stimulation and exploration of new ideas. Some days, I'm pulling out the pens to trace and other times I'm in a hard hat on-site or walking a community through a vision. On even greater days, I get to end it with a beer-thirty with amazing colleagues!
BC: The variety in scale and project type is what makes the job so exciting. I have worked simultaneously on private residences in the mountain west while also producing an 8,500 square-mile master plan in the middle east. I also love traveling to the places I am working in to immerse myself in the local culture and history to elevate the work and sense of place.
TM: The ability to live and design in such a special region – the Tahoe Basin – is very exciting. I am inspired by the natural features that surround me every day. Plus, I get to recreate in one of the most cherished landscapes in the country!