News Release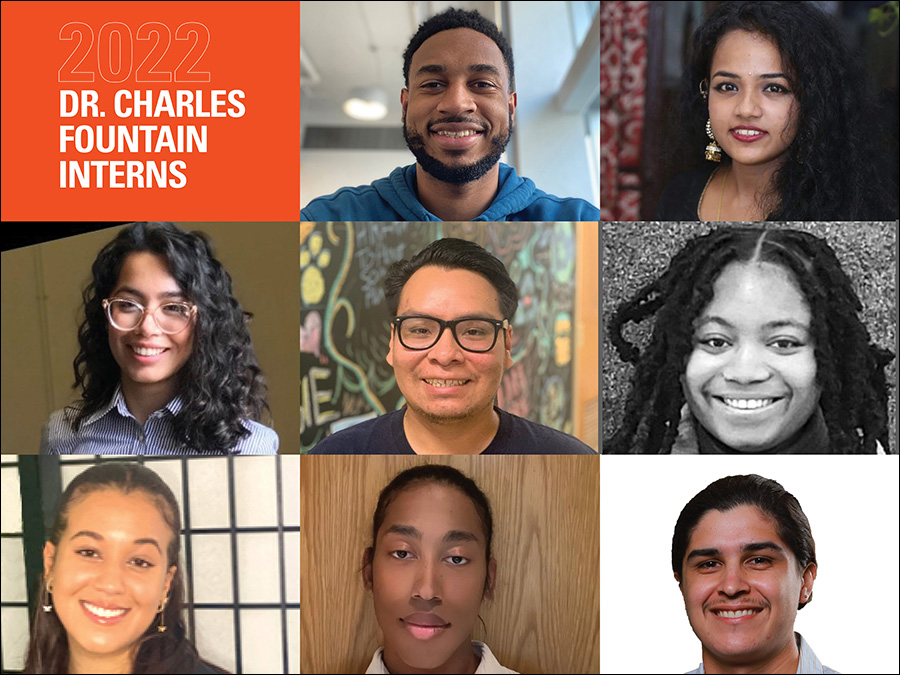 Design Workshop welcomes its 2022 Dr. Charles Fountain Interns
We have officially kicked off our 2022 Dr. Charles Fountain Internship Program! Established in honor of Dr. Charles Fountain, founder of the Landscape Architecture Program at North Carolina A&T State University, the internship provides opportunities for students who are often underrepresented in the fields of landscape architecture and planning. The program provides hands-on experience, working on actual studio projects, from start to finish.
We're excited to welcome landscape architecture students from across the country to our studios, including:
Christian Galindo (he/they)
Christian is a third year Master of Landscape Architecture student at the University of Arizona. Passionate about cultivating community, Christian seeks to create spaces where people thrive, are drawn to each other, and have the desire to work together to lift each other up. He intentionally puts himself out of his comfort zone by traveling to unfamiliar places in order to enhance his understanding and empathy of the world around him. Christian will be interning in Denver this summer.
Selah Grant (she/her)
Selah is a Logistic Coordinator transitioning back into Landscape Architecture, a degree she recently graduated with from North Carolina A&T State University. Drawn to the arts, Selah has worked on design and planting projects for campuses, residences, and communities and is motivated to become a licensed landscape architect. Our Houston studio is excited to welcome Selah for the summer.
Ciara Knight (she/her)
Ciara is studying Landscape Architecture at North Carolina A&T State University in Greensboro. Her projects balance design and environmental sensitivity with equity and inclusion, looking out for all members of the community. Ciara will be joining our Raleigh studio for the summer.
Nathan Laveau
Nathan is an Urban Design major at City College's Anne and Bernard Spitzer School of Architecture, finishing up his Master's degree. Originally from Trinidad and Tobago, Nathan has a keen interest in sustainable urban development and aspires to affect change in his home country and globally through the establishment of pedestrian and environmentally friendly urban spaces. Nathan will be spending the summer in our Aspen studio.
Gauri Patil
Gauri is a Master of Landscape Architecture student at the University of Cincinnati. After studying and working in interior design, she was inspired to return to school and study landscape architecture in order to help improve the urban environment of today's 'concrete jungles'. Gauri is motivated to understand the blend of architecture and design, and how environment, economics, and politics affect landscape architecture. Our Los Angeles studio is excited to welcome Gauri for the summer.
Eneyda Salcedo (she/her)
Eneyda is a third year Landscape Architecture student at the University of Illinois at Urbana-Champaign. She has a passion for working with urban public spaces, studying architectural forms, learning new techniques and implementing them into design. Eneyda will be joining our Chicago studio for the summer.
Dylan Smith (he/they)
Dylan is in his final year as a Landscape Architecture student at Michigan State University. He hopes to help revitalize his hometown of Detroit and create beautiful landscapes all over the world while employing sustainability principles to contribute to helping the earth. Dylan will join us this summer in our Austin studio.
Ivan Vasquez (he/his)
Ivan is a Landscape Architecture student at North Carolina A&T State University. A recent recipient of the Dr. Charles Fountain Award, Ivan enjoys working on all project types in order to experience all sides of design, including parks and open space, education, retail and residential design. He will be joining us this summer in our Raleigh studio.
We're thrilled to welcome the future leaders in the field to Design Workshop for the summer!