News Release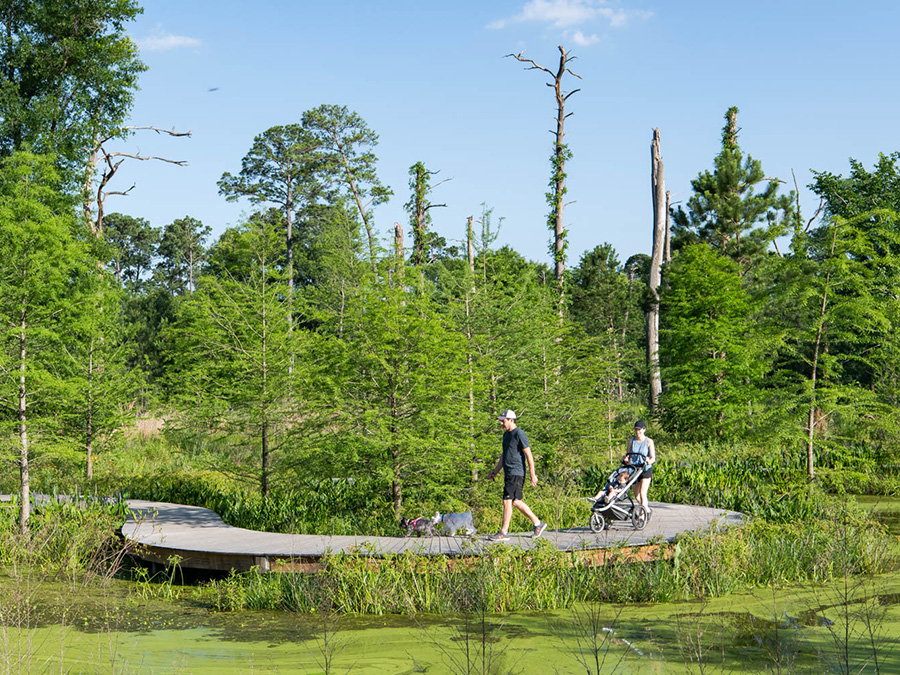 Q&A with Debbie Markey, Executive Director at Houston Arboretum & Nature Center, client since 2013
For five decades Design Workshop has provided landscape architecture, planning, urban design and strategic services to clients in North America and throughout the world. We are committed to creating special places that meet today's needs and that are sustainable environments for all time. We wouldn't have been able to work on all of these incredible projects without our clients. Today, we would like you to meet one of these amazing clients – Debbie Markey, Executive Director at Houston Arboretum & Nature Center, and client for the last seven years.
Tell us about the challenge/problem you were trying to solve that led you to work with Design Workshop?
Two major natural disasters, Hurricane Ike in 2008 and a severe drought in the summer of 2011, significantly impacted the Houston Arboretum & Nature Center (Arboretum) resulting in 50% loss of tree canopy and subsequent encroachment of invasive species. The hurricane and drought disasters made apparent a pre-existing problem – the over grown ecological condition of the Arboretum's landscape. While the events were devastating, it presented an opportunity to change how we managed and viewed our grounds. In tandem with these two disasters, our educational programming had outgrown our current facilities. The time was right for us to engage resources to help us create a master plan and implement it to restore and improve the Arboretum to better serve the community. We chose Design Workshop to spearhead a nationally recognized collaborative team.
Why Design Workshop?
Design Workshop's team had the breadth and depth of talent we were looking for on our project. We were impressed with their top notch presentation and it was clear they had spent time thinking about ideas for our Master Plan. Overall, it was an ideal partnership.
Describe the project that you worked on with Design Workshop? What hurdles did you face along the way? How were they handled?
The Design Workshop team took a very scientific approach to the project allowing us to ensure true ecosystem restoration based on the soil types. This has resulted in a much more resilient landscape that has been able to take on major rain events including Hurricane Harvey without any set back. There were many hurdles along the way but together we kept at it. Master Planning is two steps forward and one step back. We were unable to raise all of the funds needed so we had to create a Phased Master Plan, something we were not planning on originally. But, doing this has allowed us to stay open to the public with little inconvenience to most of our visitors.
What was the outcome of the project? What impact has it had on the target audiences?
We now have beautiful newly restored ecosystems that are interpreted via Field Stations in each of the landscape types. Today, the Arboretum is home to double the bird population, tons more pollinators and acres of gorgeous grasses and forbes. We are also now seeing many, many more visitors due to our exposure on the Galleria side (new 610 parking loop) and tons of press about our master plan.
What about this project made you most proud? Why?
Through the Arboretum master planning process, we were able to increase our awareness in the Houston area resulting in many more visitors experiencing all the wonderful features the Arboretum has to offer. And, our master plan has been featured with all the other amazing projects going on in this town! We are now running with the big dogs!!
What did this project/experience teach you?
I never expected to have gained as much knowledge as I have during this whole process. I always say that I understand why Master Plans die a slow death after conceptual planning. They are hard to pull off with all the moving pieces. It takes teamwork to get as far as we have over the last six, nearly seven years.
If you had to describe Design Workshop in one sentence, what would you say?
The Design Workshop Legacy Design Values process has catapulted our Master Plan into a beautiful, thoughtful, transformational plan that will bring the Arboretum to an all new level of awareness to residents and visitors of Houston and beyond.