News Release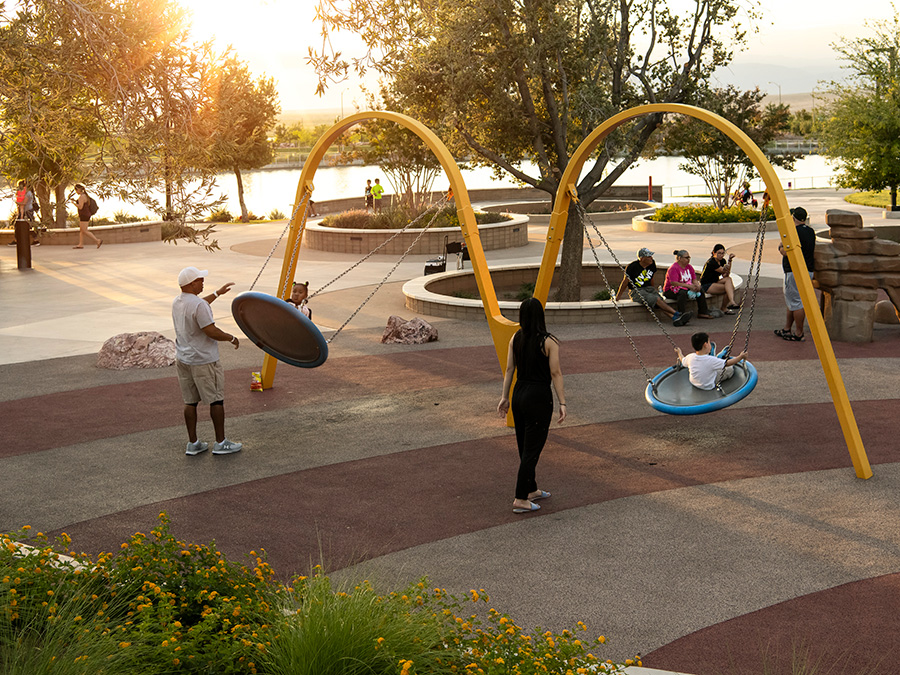 Client Q&A with Lee Farris
For five decades Design Workshop has provided landscape architecture, planning, urban design and strategic services to clients in North America and throughout the world. We are committed to creating special places that meet today's needs and that are sustainable environments for all time. We wouldn't have been able to work on all of these incredible projects without our clients. Today, we would like you to meet one of these amazing clients – Lee Farris, Manager of Land Development for The Landwell Company, collaborating with us on the Cadence project for the last 16 years.
Why did you decide to partner with Design Workshop?
We have a long-term relationship. I know Joe Porter from our work on Summerlin. And now, we have a symbiotic relationship with Jim and his team. We have a lot of common beliefs and see the value in similar ideas.
What value does Design Workshop bring to the project?
Jim is not afraid to propose something that is a little different for Las Vegas or in the southwest but do it in a way that gives us means and methods to achieve goals. The community has a unique look but it's affordable.
They are really leveraging the assets of the site and eliminate the traditional backup wall of Las Vegas. The arrival feels very open and gives a sense of surprise and amazement, which is very different.
It takes guts and confidence to say something different – but not just for the sake of something different – for the betterment, for a prettier streetscape where everyone's yard is part of the streetscape.
What was the biggest challenge to overcome?
As an infill Master Plan in an old part of the city, we had two challenges. First, to create a sense of fitting in and not being shoehorned. Second, Las Vegas is Master Plan heavy. So how do you create unique amenities compared to other communities, especially those with open space.
What is the most high-impact amenity?
Central Park runs down the spine of the community and it is completely surrounded by unique housing type. The views to the Las Vegas Strip and Mount Charleston make this part very special. We've built several amenities in the park but the one that's had the greatest impact on our community has been the adventure playground that Jim and his team designed. There's nothing like it in Las Vegas and it's become a destination not only for kids at Cadence but outlying neighborhoods as well. I think it's been a big success in part because it has play activities for all age groups including the boomerang climbing feature which kids really like. Also, DW designed a rock-climbing wall and a rock splash pad that squirts water from between the rocks which kids can't get enough of. This playground has exceeded everyone's expectations and helped Cadence become a better community.
What are the indicators of success of the project?
Well, how you rank in the country…we are in the Top 10 best-selling communities in the U.S.! Every day I run into City employees who live in Cadence who tell me the community has exceeded their expectations in terms of quality of life. And now we are hosting even bigger events in the community.
What was the 'light bulb' moment for you during the project?
1. The views of Las Vegas. There is a big berm on the north side of Lake Mead Parkway and it blocked views. We got the berm knocked down and it's was like, "Holy Cow!"
2. Our residents rave about the park and the incredible views across the valley to the Strip and Mount Charleston in the distance. We've implemented the big idea that Design Workshop designed for the park and community and it's one of the reasons we've had good success in selling homes in a competitive market.