News Release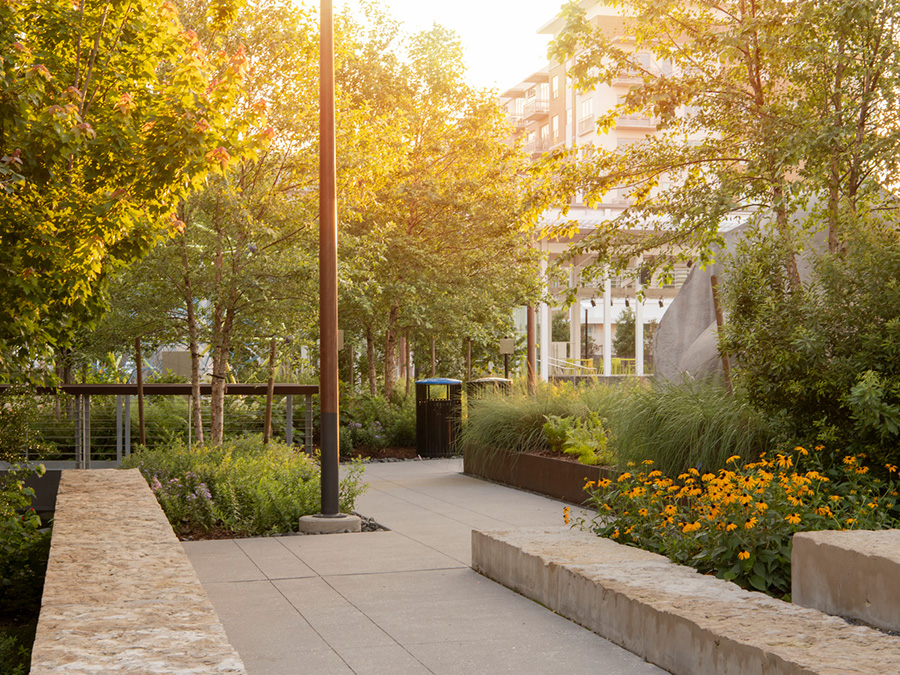 Midtown Park Elevated to SITES Silver Certification
Design Workshop announced the silver certification for Midtown Park under the Sustainable SITES Initiatives (SITES) rating system, the first of its kind in the City of Houston. Administered by Green Business Certification Inc. (GBCI), SITES promotes sustainable and resilient landscape development to enhance sustainability, implement green infrastructure strategies and improve resilience.
What started in 2010 as a 25-year strategic action plan has led to over ten years of implementation projects, including the revitalization of a six-acre "superblock", now Midtown Park. Transformed from an under-used lawn, this centerpiece of the Midtown District is now an activated space with a performance pavilion, trails, marketplace, two restaurants, an arts garden, dog park and social game courts. Bayou-inspired water features bring nature to the city to provide respite and sustainable water management – all built on top of a public underground parking garage.
Midtown Park is an early demonstration project for the ongoing development of a greener, more walkable Houston that proves that high-quality public spaces are a crucial ingredient for successful, livable cities. SITES recognizes projects that fulfill these qualifications, including:
Long-term commitment to landscape sustainability
Plant, garden, tree selection and transformation from previous space
Benefits for the community and public health
Water and energy savings
Innovative aspects of projects and use of best practices for land development
We are honored to have received this certification and congratulate our team, partners, and our client the Midtown Houston Redevelopment Authority on this achievement.