News Release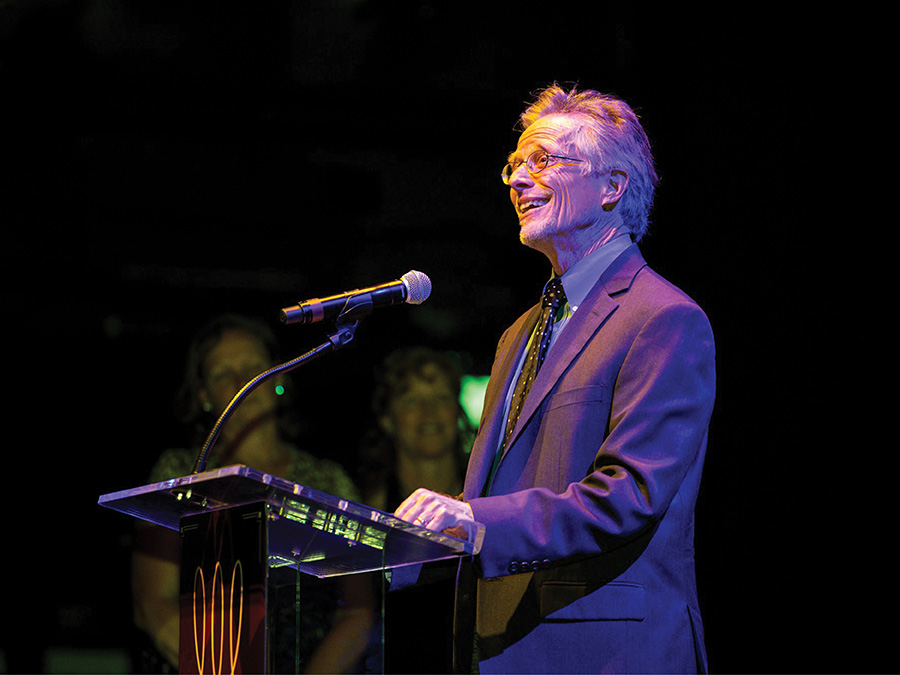 Design Workshop's Patrick Quigley Honored with Illuminating Engineering Society's Inaugural LA Chapter Lifetime Achievement Award
Design Workshop is pleased to announce Patrick Quigley, a lighting design principal based in Los Angeles with more than 45-years-experience, was honored with the Illuminating Engineering Society's (IES) Los Angeles Chapter Lifetime Achievement Award (The Beacon Award) at the Lumen West banquet held on June 24 at The Novo. The IES chapter celebrated its 50th anniversary of this event and Quigley is the first recipient of the Lifetime Achievement award.
The IES SoCal Illumination Awards program is the centerpiece of Lumen West and recognizes individuals for professionalism, ingenuity, and originality in lighting design based on the individual merit of each entry. Judges are selected from a broad professional spectrum, representing knowledge of lighting, design, and construction excellence. Attendees at the ceremony witnessed presenters Erin Erdman (eSquared Lighting Design) and Debra Fox (LPA Architects) laud the notable career of one of Southern California's more accomplished lighting designers. A common theme emerged, highlighting Quigley's dedication to mentoring, supporting, and encouraging others in the lighting design profession.
"I'm humbled to receive the inaugural IES Lifetime Achievement award. Southern California has a dynamic and high achieving lighting design community, so it's particularly pleasing to get this recognition from my peers", said Quigley.
At the start of Quigley's career in 1980 he worked with renowned lighting designer Jules Horton FIALD in New York City, and then made his way back to Los Angeles to learn from the equally iconic Raymond Grenald FIALD. Quigley opened his own shop, Patrick B. Quigley + Associates (PBQA) in 1985, which he successfully ran for over 34 years. In 2019, he joined landscape architecture firm, Design Workshop as principal of lighting design.
"Joining Design Workshop at this stage allowed me two critical things: to lay down running a firm so that I could concentrate purely on design; and to do that design for a firm I knew well and that had its sights set on being the best," Quigley added.
He is known for his distinct design approach, based on a "choreographed" sequence of lit visual events—which has been chronicled in Marc Schiler's Simplified Design of Building Lighting and Sage Russell's The Architecture of Light. His projects have been honored with more than 150 awards. He has also been recognized for his Body of Work by the U.S. House of Representatives, and for his Contribution to Architecture and the Built Environment by the American Institute of Architects (AIA).