News Release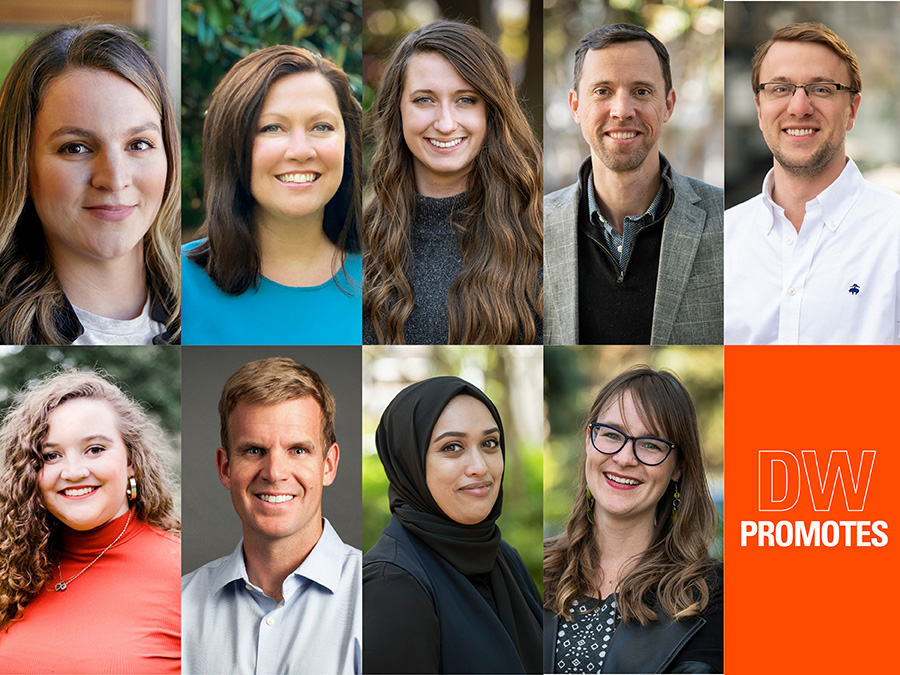 Design Workshop Announces 2021 Principal & Associate Promotions
Design Workshop, an international landscape architecture, planning and urban design firm, is pleased to announce nine promotions across five studios. Jason Ficht and Ben Roush in Los Angeles, Jessica Garrow in Aspen and Emily McCoy in Raleigh, N.C. were promoted to Principals. Those promoted to Associates include Sara Bonacquist and Hadley Peterson in Denver and Brian Chambers, Tarana Hafiz and Erin Ringsred in Houston.
"This group exhibits a high level of professional expertise and achievement and passion for their work," said Becky Zimmermann, president of Design Workshop. "We are proud to announce the promotion of these nine team members who are being recognized for their leadership, commitment to professional growth, contributions to their communities, and their efforts towards the growth and success of others," added Zimmermann.
Principals
A community planner and urban designer, Jason Ficht leads master planning projects around the world, focusing on making places more inclusive, sustainable and beautiful.
Jessica Garrow is a community planner specializing in comprehensive planning, policy planning, public participation, entitlements and land use development. She creates solutions that respect diverse opinions, promote community values, and protect the characteristics that make communities distinct.
As a landscape architect who is also an educator and certified ecologist, Emily McCoy is passionate about leading conversations within the design and planning communities on maximizing landscape performance to improve social and environmental outcomes... She is also the office director of the Raleigh, N.C. studio.
Ben Roush is a landscape architect who leads highly complex, precisely detailed site design projects at the highest level. From conceptual design through implementation, Ben's rigorous project management style and enthusiastic approach help clients achieve their goals.
Associates
Sara Bonaquist is a landscape architect dedicated to creating communities that improve people's lives. A natural leader, she is a sought-after mentor for her colleagues.
An urban designer, Brian Chambers is proud to be part of Houston's next evolution – new visions in private development, shifts to nature-based infrastructure and investments in city-building.
Tarana Hafiz employs her skills as a planner and urban designer to create equitable and resilient environments that serve people and their lived experiences. She is passionate about addressing problems faced within public spaces, and integrating outreach and advocacy to garner support for impactful design.
Hadley Peterson is a planner adept at facilitating community-driven public projects ranging from streetscapes to parks and neighborhood plans. She is committed to engaging residents and underserved populations in innovative ways so that all voices can be heard.
Landscape designer, Erin Ringsred, is known for connecting communities through design and implementing streetscapes that place people first. Her work focuses on building resiliency in our communities through innovative stormwater management strategies and transportation alternatives. Erin also leads the Quality Management program for the Houston studio.