News Release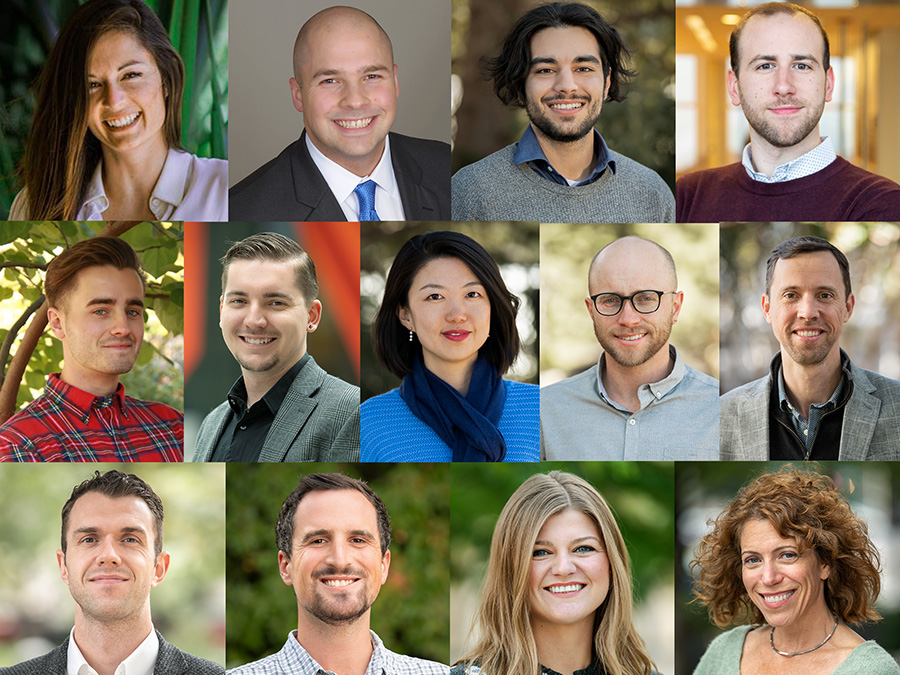 Design Workshop 2022 Leadership Promotions
DENVER – May 11, 2022 – Design Workshop, an international landscape architecture, planning and urban design firm, is pleased to announce 13 promotions across seven offices. Brian Chambers in Houston is promoted to principal. Those promoted to associates include: Ben Niefield, Feras Abdallah and Max Guzzetta in Aspen; Scott Miller in Austin; Brian Corrie and Chris Freda in Chicago; Brittany Blicharz, Eric Krohngold, iLana Fowler and Kim Case in Denver; Jennifer Wang in Los Angeles; and Tyson Murray in South Lake Tahoe, California.
"I am extremely proud to announce the promotion of 13 team members," said Robb Berg, President of Design Workshop. "Each of these individuals is being recognized for their strong leadership, dedication to their craft and contributions to their communities. Participating in this process brings me so much joy and excitement to usher in these future leaders of the firm."
Principal
An Urban designer and landscape architect based in Houston, Brian Chambers brings a breadth of experience on many complex projects- - from regional and large-scale master plans to urban infill projects and community participatory design.
Associates
Feras Abdallah, a landscape architect in the Aspen studio, has developed a diverse portfolio of award winning, internationally recognized projects, bringing innovative thinking to river restoration planning, resort development and residential design projects.
Project Manager Brittany Blicharz, believes design has a story to tell and takes a holistic approach to her residential design projects. She critically explores the landscape's relationship to the architecture and interiors to execute a harmonious relationship between all three.
A landscape architect, Kim Case, is energized by leading community-driven projects of all project types and scales. Whether designing a new park or revitalizing a streetscape, her collaborative approach is centered around placemaking.
A landscape architect and project manager, Brian Corrie, brings international experience working with communities across the country and the world. His interest in land stewardship and placemaking motivates him to create spaces that promote healthy ecologies that reflect the cultural and historic significance of the place.
As the firm's Director of Marketing and Business Development, iLana Fowler has a deep interest in 'design for social impact' and its transformative effect in cities. iLana brings a market-driven focus and tactical direction to advance the thinking and practice as a whole.
Trained as an architect and planner in the Chicago studio, Chris Freda has a passion for solving problems with a combination of great design and smart public policy. He is inspired by bringing communities together to tackle challenges related to health, environmental stewardship, economic opportunity, and access to public spaces and resources.
Project Manager, Max Guzzetta brings his passion for garden design and form giving to his work, which has taken shape in some of Aspen's premier residential landscapes. His love for the field stems from his family's background in the landscape industry with generations of landscape contractors and nurserymen.
Eric Krohngold is a member of the Strategic Services team in Denver and is involved in all parts of the project planning process. From market analysis to master planning and financial feasibility, Eric strongly believes in the transformative power of community and market driven real estate development projects.
A transplant from Edinburgh, Scotland to our Austin studio, operations manager Scott Miller brings a strong passion for the curation of sketching to the built form, in a range of urban design and landscape architecture projects across Europe, The Middle East, The United Kingdom and North America.
Tyson Murray is a landscape architect and operations manager in the Lake Tahoe studio. His passion for landscape architecture and planning was cultivated growing up in Provo, where he explored his desire to harmonize the built and natural systems.
A project manager in the Aspen studio, Ben Niefield enjoys designing for people and communities across a range of project types. As operations manager, he loves working with staff to foster a collaborative, supportive and exciting culture.
Jennifer Wang is a landscape designer and operations manager in the Los Angeles studio. With a passion for highly complex, precisely detailed site design projects, she enjoys working on all phases of the design process.