News Release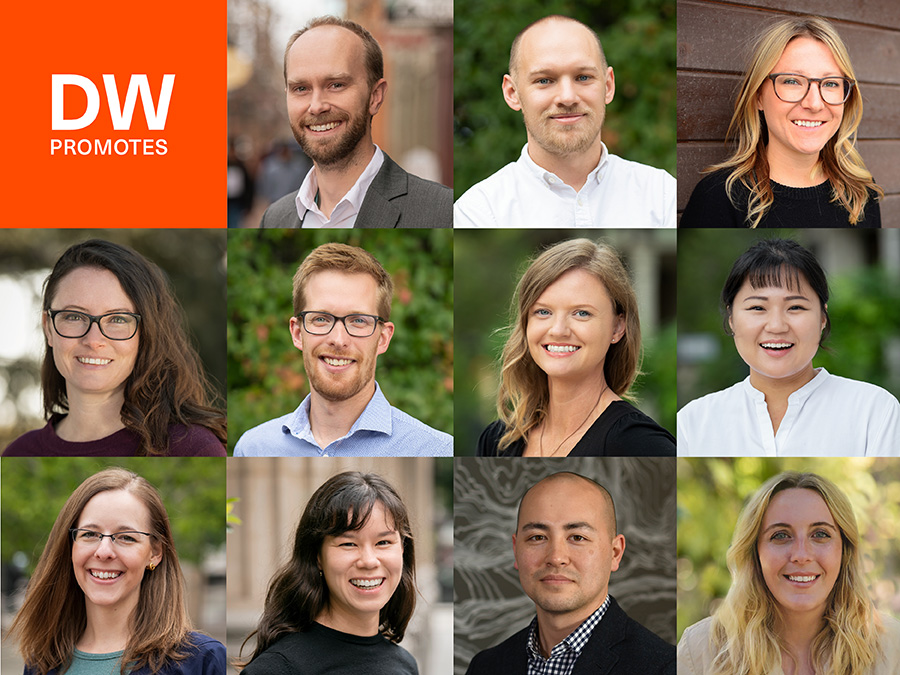 Design Workshop Announces 2023 Promotions
DENVER – May 2, 2023 – Design Workshop, an international landscape architecture, planning and urban design firm, is pleased to announce 11 promotions across five studios. Jake Sippy has been promoted to technical principal in Denver, CO. Those promoted to associates include: Aaron Bridgers, Callie New, Mary Oliver and Dan Runzel in Aspen, CO.; Stacy Ester and Sonny Sin in Austin, TX; Renée Ludlam in Denver, CO; Isabella Welch in Los Angeles, CA and Benjamin Boyd and Ellie Lerner in Raleigh, N.C.
"Each of these emerging leaders represent a broad diversity of expertise and talents that collectively have been adding intention and innovation to our projects," said Robb Berg, President of Design Workshop. "It is with great pleasure and excitement that we celebrate their achievements and welcome this next generation of leaders in the firm."
As a Technical Principal, Jake Sippy's oversight and guidance focuses on design software, documentation and construction implementation. He brings rigor and technical acuity, coupled with an innate ability for community facilitation and education, providing a holistic approach to all of his projects. Jake is doing what he loves best – evaluating, testing and incorporating new design software tools, developing a standardized, well-integrated process and training staff across eight studios.
Aaron Bridgers is a landscape architect whose work encompasses a range of projects - from office buildings and memorials, to resort, tourism, and private residential gardens. His work explores the relationship between modern architecture and landscape to build enduring places of beauty, art, and craft.
Callie New, an urban planner, brings experience in both the public and private sectors, spanning the topics of land use and natural resource management, transportation, and recreation. She approaches every project with an eye on identifying tactics that uplift people and has a passion for solving problems with a combination of great design and smart public policy.
Landscape architect and planner, Mary Oliver's experience provides her with a holistic understanding of design at all scales - from large-scale planning projects to site design. She believes that quality design supports ecosystems, connects people to the natural world and promotes an enhanced quality of life.
A landscape architect and planner, Dan Runzel's work spans from Long Island to Los Angeles, which enables him to develop a diverse portfolio and knowledge of different landscapes. He thrives within a team culture and mindset that allows him to take great pride in the collaborative effort it takes to make any project great.
Landscape designer, Stacy Ester brings experience across multiple disciplines and includes training in studio art, landscape architecture and spatial analysis. Her strengths in technical and creative design allow her to develop, test and support concepts in all phases of design and planning.
Sonny Sin, a planner/landscape designer, focuses her expertise on large-scale community, district, and comprehensive planning, as well as the development of mixed-use properties and ecological restoration projects. As a leader of the firm's GraphicsLab, she is also developing the design collaboration tools across eight studios.
Environmental Graphic Designer, Renée Ludlam, leads experiential and environmental graphic design projects to connect people and place across the U.S. She approaches her projects as an exploration, seeking to discover what is distinct about each one and how best to share its story.
Landscape Designer, Isabella Welch offers a rare blend of technical comprehension and artistic finesse which together result in extraordinary talent as a designer. She works tirelessly to provide excellent service to her clients and collaborators.
Benjamin Boyd is a landscape architect with over a decade of project experience in hospitality, academia, healthcare, and mixed-use developments, both domestically and internationally. His work focuses on managing complex projects and processes, with an emphasis on the operations of the Raleigh studio.
Landscape architect, Ellie Lerner is inspired by the diversity of her native home on Alabama's Gulf Coast, and advocates for environmental literacy through design, as well as socio-ecological rehabilitation as an economic and resilience driver for communities.