News Release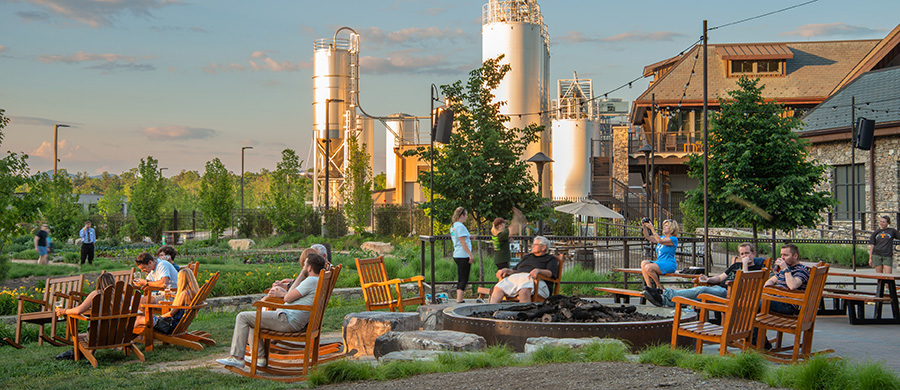 Design Workshop Returns to its Roots Opening a New Office in Raleigh
January 14, 2020 - Design Workshop, an international landscape architecture, planning and urban design firm, is pleased to announce that it has relocated its Asheville, N.C. office to Raleigh, N.C. The move places the Design Workshop studio in a central location in the mid-atlantic and southeast regions allowing it to better serve the burgeoning urban population in the southeast. Emily McCoy, PLA, ASLA, SITES AP, and Glenn Walters, PLA, AICP, LEED® GA, will serve as co-office directors guiding the strategic direction and growth of the office.
"Design Workshop was founded in Raleigh in 1969, so for us, this is a return to our roots," said Walters. "The most exciting part of this office move is being able to bring our 50 years of Legacy Design and sustainable design to a place that is rapidly growing due to its rich cultural and natural resources that support a high quality of life."
With a robust list of clients, Design Workshop is playing an active role in building and enhancing communities in North Carolina and across the southeast. Currently in Raleigh, the team is working on a master plan for a 59-acre park that honors the legacy of the Kellam-Wyatt families by transforming the former farm land into a county park that serves as both a nature preserve and agricultural hub. Additionally, the team is helping design a new neighborhood park in the Walnut Creek Wetland Park that will celebrate the community's legacy and history. In Merry Hill, N.C., Design Workshop is guiding the planning and design of Tall Glass of Water Waterfront Park, a new 147-acre waterfront park that provides opportunities for adventure tourism and gathering spaces for the community to allow access to the beautiful waterfront of the Albemarle Sound.
"We are thrilled to be able to collaborate with the community here in Raleigh, as well as the rapidly growing local universities that are building our next generation of talent," added McCoy. "The future is bright for Raleigh and we plan to play an integral role in shaping the rapidly growing mid-Atlantic and southeast regions."
McCoy is a landscape architect, ecologist and researcher whose deep connections to North Carolina and the southeast have nurtured her drive and passion for celebrating the natural and cultural legacies of places through design. Throughout her career, she has worked on a wide range of award-winning projects and currently also serves as an adjunct associate professor of practice at NC State University. With more than 30 years of experience in landscape architecture, urban and land planning, and real estate development, Walters offers his clients a 360-degree perspective identifying solutions that balance design, environmental responsibility, and economic realism. He has worked on a wide range of projects across the nation from Design Workshop's Asheville studio.
While the office searches for a permanent home, the Design Workshop team is currently based out of a co-working space, located in the recently revitalized warehouse district. The address of the office is: 223 South West Street, Suite 900, Raleigh, N.C. 27603.