News Release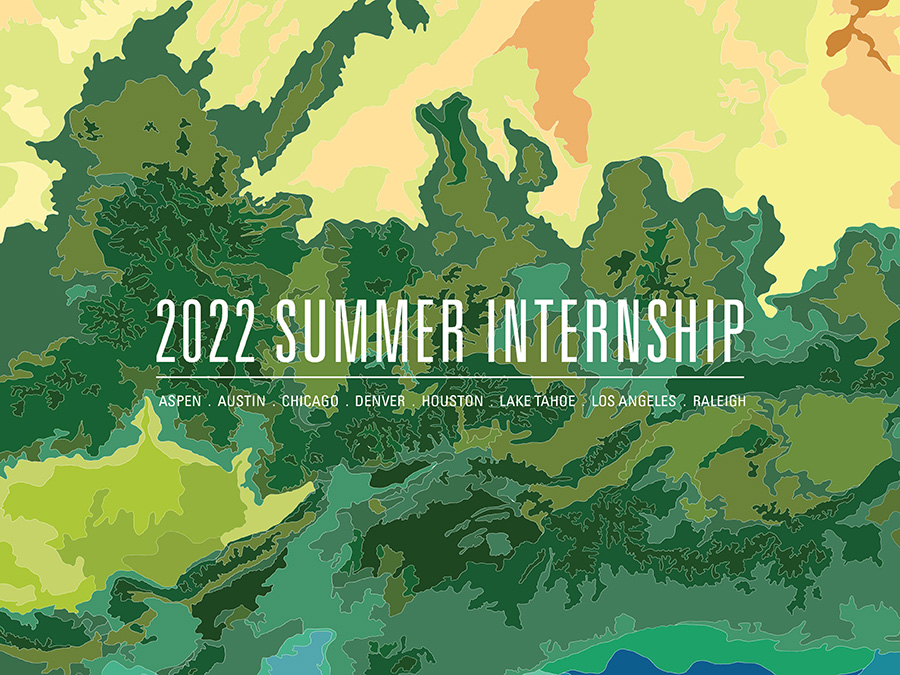 Reflections from our Summer Interns
Our favorite time of year is coming to a close and our summer interns are heading back to school. We checked in with several interns across our eight studios to reflect on their experience, including:
Benjamin Reinert, Urban Planning & Policy graduate at Politecnico di Milano
Helen Lea, Master of City Planning & Urban Design student at the University of Pennsylvania
Nick Mussarra, Master of Landscape Architecture student at NC State University
Jeanelle Zhang, Landscape Architecture student at the University of Washington
Shujing Yi, Master of Landscape Architecture and Master of Urban Spatial Analysis at the University of Pennsylvania
Judah Braman, Landscape Architecture student at Cal Poly San Luis Obispo
Dylan Smith, Landscape Architecture student at Michigan State University
What was your favorite part of your internship at Design Workshop?
BR: My internship has been an incredible experience. It is perfect for someone with a planning background looking for exposure to landscape design. Getting plugged into the project cycles has offered me a glance into the recipe for DW's successes and brought the satisfaction of feeling like I played a role in them.
HL: My favorite part of my internship at Design Workshop was the engaging studio culture. Everyone is excited to collaborate and uncover new ideas for projects together. I felt like part of the team from day one. There are so many opportunities to learn from other people and to be part of a great community.
NM: I loved being able to work with such talented people on a variety of projects, as well as the amount of trust given to interns to take ownership of tasks!
JZ: What I like most about Design Workshop is the free atmosphere and the friendly people. Everyone understands and helps each other. I especially like the opportunities to get out and about. There is no learning more profound and practical than experiencing it in person. As a landscape designer, every site visit makes me think about the relationship between the landscape and its users. Maybe it's a clever bench design that allows people who need to work and those who need to rest to enjoy the same shade; it's a different courtyard that tells the story of a different culture that once existed in the city. They make me feel the power and beauty of the landscape more than those lines on paper.
SY: The internship introduced me to a lot of incredible people and exciting projects. I really love to be deeply involved in different kinds of projects and cooperate with the teams to generate fantastic design ideas and documents. I learned a lot from the projects and people here.
JB: My favorite part of my time here at Design Workshop has been being able to work in such an amazing environment. The studio is collaborative, engaging, and welcoming. Everyone is so kind and willing to answer my questions along with teaching me new skills and strategies that I will implement into my future work.
DS: My favorite part of the internship has been learning how the office operates and gaining insight on real projects in various stages of development. I also enjoyed putting my skills and knowledge into practice while completing various tasks throughout my time at Design Workshop and improving as a result.
As you conclude your internship, what is one key learning you will take with you?
BR: The learning opportunities have been immense, and I will take away an expanded mental catalogue of plants, materials, and techniques. However, I think the knowledge gained around planning and design processes has been paramount. Participating in various decision-making and review stages and learning the general objectives for each one will help prepare me for long-term professional success.
HL: One key thing I've learned is to invest in the process. Sometimes you just want to start designing but taking time to understand why and how we do things can set the team up for even greater success. Design Workshop's Legacy Design method and review processes always made me ask questions about the big ideas in a project and how we can make them better.
NM: The biggest lesson I learned was to be open to learning anything! You never know when a new skill will come in handy on a future project.
JZ: The most valuable thing I learned at Design Workshop was standardization and workflow. Standards make communication between designers faster, and transparent workflows help designers to divide work more clearly and collaborate more efficiently. With such a standardized process, designers can save time on repeatable tasks while allowing them to play around with the parts that require thought and imagination.
SY: Detail matters! Being careful with details ensures we consider our clients' needs and generate great designs and documents accordingly. Carrying on document standards and file management details during project development guarantee the team works efficiently and smoothly.
JB: The first takeaway is the importance of looking around when you are outside and taking in your surroundings. And the second is to ask questions.
DS: One key learning I will take with me are new skills learned in the various software that we use in the profession.