News Release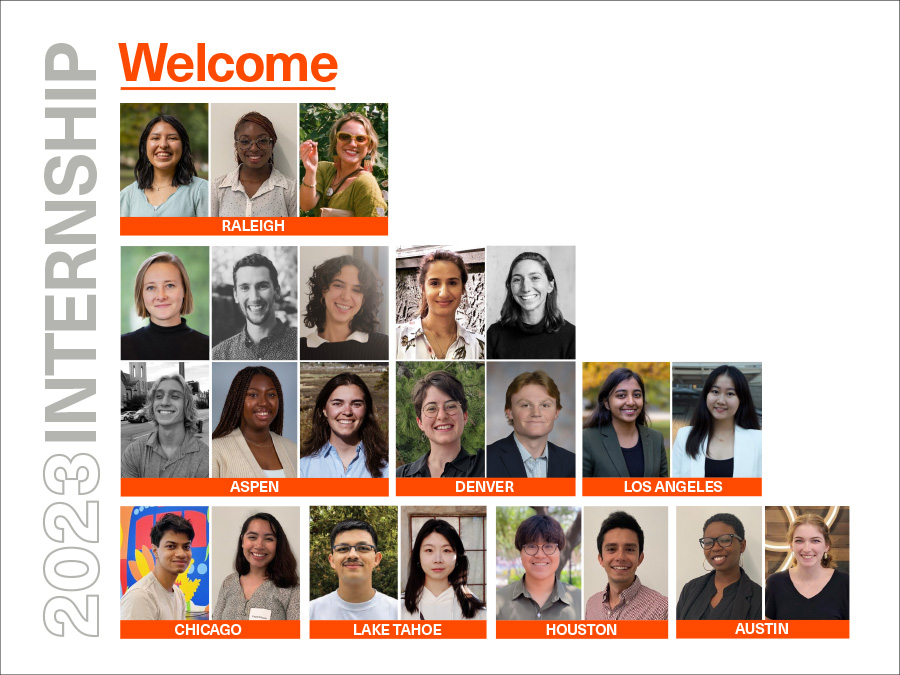 Design Workshop welcomes 2023 Summer Interns
This week kicks off one of our favorite times of year, welcoming 23 summer interns across our eight studios! Students and recent graduates in our Summer Internship and Dr. Charles Fountain Internship program will collaborate on a variety of projects this summer and enhance their design and planning skills with our talented team. We are thrilled you're here!
We're excited to welcome landscape architecture students from across the country to our studios, including:
2023 Dr. Charles Fountain Interns
Britt Angell is attending North Carolina A&T University and will work in the Denver office. Her portfolio includes beautiful examples of pencil drawings, painting, collage and photography. Her work examples include projects about climate change, revitalization, making a memorial site more community oriented, and adapting a park to its existing conditions to better serve the community.
Jaime Andrade is currently pursuing a master's degree in landscape architecture at Auburn University. His undergraduate degree in architecture is from Universidad San Francisco de Quito (Ecuador). He approaches design by tackling projects with hand drawings before developing the project on the computer. His hand drawings are very fine, and his portfolio shows the progressions from analog to equally fascinating digital formats.
Faith Charles holds a Bachelor of Architecture degree from the University of Houston and is currently pursuing a Master of Science in Urban Design from the University of Texas in Austin. She will be working in the Austin office. Her portfolio shows extensive knowledge of Houston's major landmarks and shows her work experience in BIM management and Architectural Services.
Bryan Cueva is pursuing his bachelor's degree in landscape architecture and a minor in GIS from Cal Poly Pomona. Bryan will be working in the Tahoe office this summer. He has held several leadership positions while in school, including being a Teaching Assistant, Resident Assistant and Events Coordinator for CPP ASLA.
Ketaki Ghodke will sit in our Los Angeles studio this summer. She is working toward a masters in regional planning at Cornell and is currently a Graduate Teaching Assistant. She holds a Bachelor of Architecture degree from Pune University. Ketaki is heavily inspired by her surroundings, books and travel. She uses her breadth of experiences to help others have a voice in her work.
Ogheneruno Okotie will be working in the Aspen studio this summer. She is studying landscape architecture at Oklahoma State University and is Treasurer of the ASLA Student Chapter. She is highly involved in campus activities, including Eco-Reps and the Theta Nu Xi Multicultural Sorority. Her portfolio shows her many software skills and highlights her teaching and volunteer experiences.
Brenda Palacios Rodriguez is a dual-degree candidate at University of North Carolina at Chapel Hill (Environmental Studies and Studio Art, with a minor in Urban Planning). She is also engaged with NC State University, studying sustainable, equitable and inclusive designs for the future. Brenda will work in the Raleigh studio this summer. She has worked as a horticulturist and as a community outreach intern. She is an experienced podcaster and webinar moderator and has led bilingual conversations to facilitate engagements with local stakeholders.
Eneyda Salcedo is returning for her second year as a Dr. Charles Fountain Intern in the Chicago studio! She is a student at the University of Illinois at Urbana-Champaign – architecture student turned landscape architect. Her portfolio contains beautiful collages illustrating biomimicry, green influences and connectivity. We already know she has mad animation skills from last year's final CFI presentation.
Amira Slocum will join the Raleigh office this summer from the Landscape Architecture Foundation's Ignite Program. She is an MLA student at North Carolina State University, Secretary of the ASLA Student Chapter, and Research Assistant to Dr. Kofi Boone. Her interests are in everything green – spaces, roofs, walls – and in relating the benefits of green space to mental and physical wellness.
2023 Summer Interns
Ilan Ahmed recently graduated from the University of Illinois at Urbana-Champaign. His previous work experiences include being a Soybean Research Farm Assistant and a Fabrication Lab Assistant. He participates in the DEI Committee to foster a safer environment and in the ASLA UIUC Student Chapter. Ilan will be in Chicago this summer. Welcome!
Tyler Bentley will be joining us as an intern in the Aspen studio. He is a second-year landscape architecture student at Clemson University and has additional background in architecture. He is CUASLA's Vice President/Interim President. Ask him about his cruiser skateboard. We can't wait to meet you, Tyler!
Deil Fernandez will be working in the Houston studio this summer. He is an undergraduate student at Michigan State University and is the ASLA Social Media Chair. Drawing is integral to his thought process and to his design style. In addition, he has theater and stage experience, plus pottery, carpentry and model making. We can't wait to see what you will help us create in Houston.
Jie Han (Hannah) is a student at UC Berkeley, presently working on a Master of Landscape Architecture & Environmental Planning degree. One of her long-term goals has been to work at Design Workshop. Welcome, Hannah! She has experience in wetland restoration, waterfront renovation, residential housing, urban ecological space and climate adaptation design. Her hobbies include aquascaping, electric guitar playing and photography. She will be in Tahoe this summer.
Emma Heneine comes to Design Workshop's Aspen office via Massachusetts Institute of Technology. She is a candidate for a master's in city planning and holds two Bachelors of Arts degrees: Global Health and International Comparative Studies, Minor in Arabic. Her previous work experience includes the Clinton Health Access Initiative in Brooklyn and the African Institute for Development Policy in Malawi. She has multiple awards and published articles, and her interests include gardening, vintage clothing and antiques and interior design.
Mary Claire Jennings is a student at Utah State University, and through that connection, has already visited our Denver office. Her accolades include being President Elect of the USU Chapter of ASLA and being on the Dean's list. This year she has been a Hand Graphics Teaching Assistant. Mary Claire will spend the summer in our Austin office. Welcome to Texas, Mary Claire!
Clare Kavanagh will be working in the Denver studio this summer as our Environmental Graphic Design Intern. She is a recent graduate from the University of Louisiana at Lafayette, with a Bachelor of Industrial Design. As an industrial designer and woodworker, many of her technical skills and interests overlap with landscape architecture. Welcome, Clare!
Craig Klomp is a second-year graduate student pursuing his Master of Landscape Architecture at the University of Guelph. His Honors Bachelor of Arts is in architecture and environmental studies from the University of Toronto. He has had experience in landscape design and as a Graduate Teaching Assistant. He is and Academic All-Canadian (played on varsity athletics and maintained 80+% academic standing). He will work in the Aspen office this summer. We will look forward to recruiting you for the softball team.
Cynthia Liao attends Cornell University as an undergraduate studying landscape architecture and urban and regional studies. She will be in our LA studio this summer. Her professional interests include design and modeling software. She has a deep love for animals and the earth, and enjoys painting, drawing and photography. Welcome, Cynthia!
Addison Martin will join our Aspen studio this summer. She attends Utah State University while she pursues her MLA and works as a Graduate Teaching Assistant. She also graduated with her B.S. in Multidisciplinary Design from Utah State University. Addison loves to tease out patterns through collaborative analysis and synthesis. She looks forward to mentorship from Design Workshop.
Emma Potter attends the University of Virginia and is a second-year graduate student in landscape architecture, with an interest in planning, community engagement, and urban agriculture. Emma has a heart for volunteering, including work with food equity and community engagement, hydroponic and aquaponic community farming and in accessing grant funding for the architecture studios to become a recycling partner. Emma will be a great fit for the Raleigh studio this summer.
Caroline Schoeller attends the University of Pennsylvania and is a 2024 MLA candidate. Her previous internships were Landscape Designer positions and with the Philadelphia Water Department. She is passionate about environmental education and is interested in working on projects that integrate climate and social resiliency strategies. Welcome to the Aspen office, Caroline!
Natalie Weiss is returning to Design Workshop for a summer internship in Denver. Natalie is a student at the University of Washington and is a candidate for a master's in landscape architecture. She is inspired by the use and possibilities of geospatial data within the landscape architecture field. We are glad to have you back, Natalie!
Christian Weber will be interning in Strategic Services in Denver this summer. His degree is in Business Administration – Real Estate & Construction Management, with a minor in Finance. His leadership experience includes the National Society of Leadership and Success, a prestigious award. Christian's interests include skiing, basketball and guitar, and the DU Alpine Club. Welcome to Design Workshop!