Symposia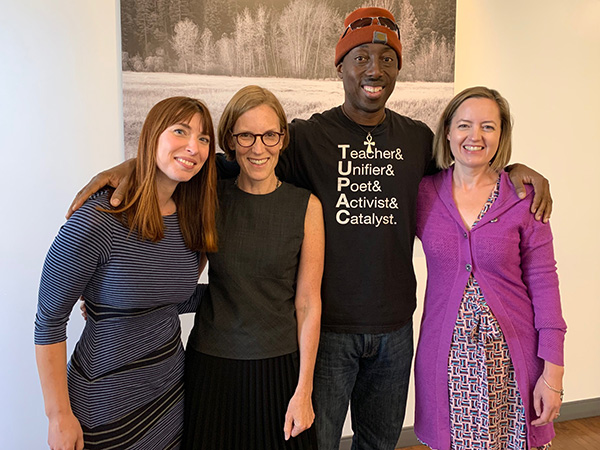 Designing for Equity: Revolutionizing Creative Placemaking and Community Engagement through Real Time Data, Tech-equity, and the Power of Collaboration
September 25, 2019
Description
The data-driven revolution is catalyzing new approaches to landscape architecture and urban design. This presentation will explore how new innovative platforms and processes can help designers, landscape architects, planners, and engineers integrate community-driven data with Big Data and predictive analytics in order to increase community engagement and improve the design process with our nation's most vulnerable populations. Because data and design conversations often ignore issues of power and privilege, this presentation will specifically explore the intersection between race, space, place, and waste and their impact on equitable community development. Planners and designers using LEED, SITES and other frameworks often set ambitious goals for the design of the built environment but are fairly silent on diversity, equity and inclusion, in relation to creating great spaces for everybody, through big plans and small interventions.
At the heart of this presentation, Dr. Antwi Akom will discuss how Streetwyze, the social benefit company he co-founded, uses human-centered design and participatory technologies to help communities enhance their use of digital storytelling, story-mapping, community-generated data, location-based data, data visualization, and Big Data to improve services, inform local decision-making, and better engage local communities. Overall, Dr. Akom's presentation addresses four driving questions that have the power to transform "Business as Usual" planning and design both now as well as in the future: What does designing for equity look like in the 21st century? How can planning and design dismantle racism and lead to gender equity? How can technology democratize data and democratize decision-making in systematic ways that improve the urban design process with vulnerable populations? And finally, how can design firms, as for-profit companies, co-create opportunities with vulnerable populations to improve the built environment so that people don't have to leave their communities to live, learn, work, and thrive?
To address these questions, Dr. Akom introduces new tools for community engagement that enable users to reach 10-100 times the number of participants that they would have reached with traditional outreach methods alone (like town hall meetings or paper surveys). By blending the best methodologies from the past with the most innovative technologies of the present, Dr. Akom demonstrates how these tools can change the paradigm from community participation to community activation. Session participants will leave with a toolkit and new methods to help move communities from planning to action. Audacious ideas, innovative technology, improving our equity lens, and compelling results will receive prominent attention in this timely discussion about race, space, place, data visualization, data analytics, community engaged design, public realm, resiliency planning, green infrastructure, and strategies for equitable community development. Overall, this work is the leading edge of a new "science of cities," designed to accelerate communities' use of quantitative and qualitative data, storytelling, and evidence so that people can participate in the design decisions that impact their everyday lives.
Learning Objectives
Understand the role real time data, community-driven data, data visualization, and Big Data play in creating equitable communities and equitable planning and landscape architecture for all;
Improve the capacity to put forward a vision of equitable community development and assert a set of priorities, visualizations, and data dashboards that flow from that vision;
Improve the capacity to assess community vulnerabilities and assets, and develop (or select) appropriate solutions based on the community needs, story-mapping, lived experience, and integration with Big Data;
Improve the capacity and develop methodologies to build community voice and power to ensure priorities for equitable community development and equitable community engaged design are resourced and implemented; and
Understand how communities can use technology to take action on important issues and visualize neighborhood health and well-being, and how planners and designers can use this information to build more culturally and community responsive spaces and places through indigenous co-design and/or co-production processes.
Keynote Speaker: Dr. Antwi Akom, Professor & Founding Director Social Innovation Lab UCSF & SFSU; Co-Founder/CEO, Streetwyze
Antwi Akom PhD is an eco-visionary on urban and rural acupuncture, which combines people-centric design with cutting-edge technology in order to achieve new standards of affordability, mobility, sustainability, equity, and opportunity for all. Named one of the world's top innovators by President Obama (2016) and a Pioneering Innovator by the Robert Wood Johnson Foundation (2019), Dr. Akom integrates community-generated data with Big Data and predictive analytics in ways that make communities smarter, more equitable, just and sustainable. Dr. Akom's work enables designers, planners and engineers to design spaces that are inspired by the people who experience them. What is innovative about his approach is that community needs and experiences inspire the innovation. Dr. Akom is also a Distinguished Professor & Founding Director of The Social Innovation Lab—The first joint research lab between the University of California, San Francisco (Medical School) and San Francisco State University (College of Ethnic Studies). Prior to joining UCSF, Dr. Akom co-founded Streetwyze, a technology and human-centered design firm which enhances health and well-being in the environments where we live, learn, work, play, and pray. Streetwyze has been named by PolicyLink as one of the top 10 health equity, design, and community engagement platforms—and has been featured in The Atlantic's Citylab, The Root, Tech Republic, Green Biz, The Nation, and other award-winning publications. His most recent TEDx Talk is called Innovation Out of Poverty.