News Release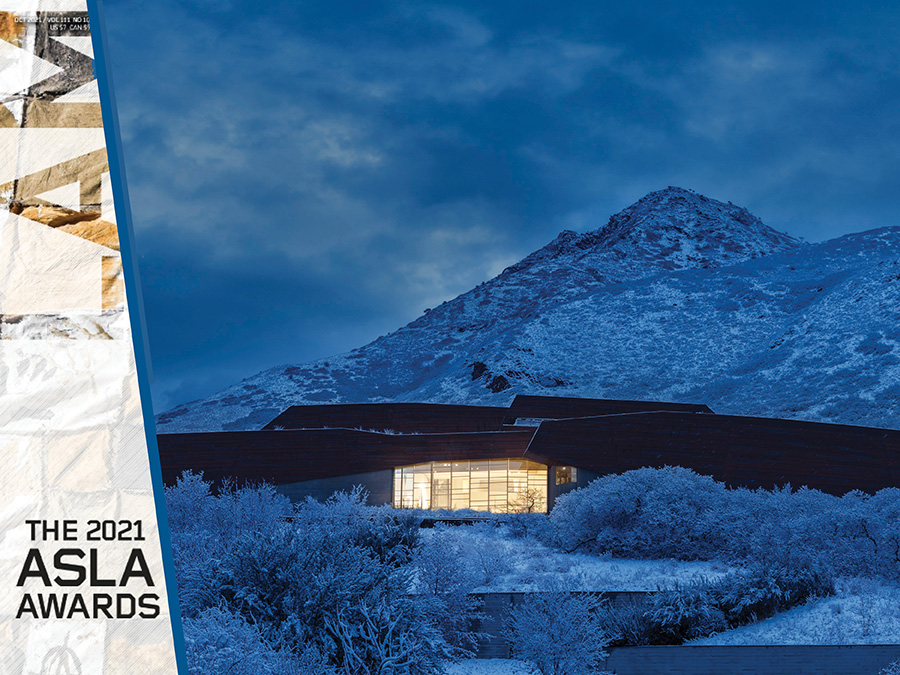 Design Workshop Honored with Six American Society of Landscape Architects Professional Awards
Design Workshop, is honored to announce that the firm received six national awards, including the Award of Excellence in both the General Design and Residential Design categories, from the American Society of Landscape Architects (ASLA). The ASLA Professional Awards recognized 40 projects from around the world for their craft, innovative approach to design and planning, and overall contributions to the profession.
"A firm receiving six national ASLA awards is an unprecedented achievement and we are honored by this recognition," said Becky Zimmermann, CEO of Design Workshop." It's a testament to the talent of our team, the trust of our clients and the collaboration that occurs to create spaces that stand the test of time."
Here is a snapshot of the six projects that received ASLA awards:
Natural History Museum of Utah – (Salt Lake City, Utah) – Award of Excellence in General Design
The Natural History Museum of Utah provides an introduction to a remarkable landscape, and celebrates unique paleontological discoveries, unusual gems and minerals, preserved prehistoric artifacts, and stories told by contemporary native people. Bridging the divide between nature and culture, the Museum offers an abstract extension and transformation of the land: its campus an expression of a landscape defined by rock, minerals, and vegetation. Sustainable design elements including rainwater recapture, permeable surfaces, and native plantings resulted in a landscape that mimics and restores the natural conditions of the environment and the site. View project
70 Rainey (Austin, Texas) – Award of Excellence in Residential Design
Soaring 100 feet above the shoreline of Austin's Lady Bird Lake, 70 Rainey redefines multifamily urban living in a city experiencing rapidly changing technology, culture and innovation. Its Sky Garden, a verdant refuge devoted to recreation, leisure and contemplation, is defined by the diverse and native ecologies of the Texas Hill Country that weave together a sensorial outdoor living experience. Sustainability, a priority from the outset, led to early microclimate testing, the inclusion of locally sourced pollinator species, and abundant absorbent surfaces that manage stormwater runoff from entering the critical watershed. View project
Highlands Retreat (Pitkin County, Colo.) – Honor Award in Residential Design
A family homestead tucked away in the Rocky Mountains, Highlands Retreat presents a refreshing vision of holistic mountain design, one that draws inspiration from its setting by removing the barrier between interior and exterior. Outdoor living spaces merge almost imperceptibly with forest and meadow, infusing the home with a sense of peace, permanence, and resilience. View project
VanPlay: Parks & Recreation Vision Plan (Vancouver, British Columbia, Canada) – Honor Award in Analysis and Planning
Vancouver Parks & Recreation's Vision Plan addresses the challenge of creating equity in parks and recreation with the first citywide study in 25 years. Design Workshop facilitated over 30,000 community conversations to develop a data-driven plan that puts community priorities of equity, asset renewal, and connectivity at the core of the city's decision making. The unanimously adopted plan has garnered over $265 million in new capital expenditures to provide more people in Vancouver the opportunity to connect to nature. View project
Mariposa County Recreation & Resiliency Plan( Mariposa County, Calif.) – Honor Award in Analysis and Planning
Within the past twenty years, every community in Mariposa County, California, has been threatened by major wildland fires. To combat this growing threat, Design Workshop developed a recreation plan that not only addresses park needs but issues of wildfire and climate change, equipping leaders with multilayered resilience planning and design tactics. Clear goals and strategies enable regional planners to achieve the co-benefits of integrating resiliency adaption measures into parks, trails, and open spaces. The final plan supports the County's ability to increase physical and social resilience by minimizing risks to public health, safety, and economic disruption, and maximizes the protection of the most vulnerable from climate related events like wildfires. View project
Charlie Mountain Ranch (Colo.) – Honor Award in Residential Design
As more people retreat to unique regions across the western United States, landscape architects are called upon to think critically about the impacts of development in surrounding nature. An ideal example of successful redevelopment is Charlie Mountain Ranch, a settlement established in the Capitol Creek Valley in the late 1800s. Falling into a state of neglect, Design Workshop created a design that includes low-profile structures and preserves the diverse and ecologically-rich landscape. View project
View all submissions on the ASLA awards page.